About Exhibit and Display Truss

How To Place an Order


Request A Quote


Returns and Cancelations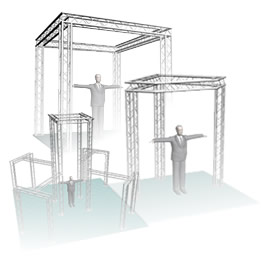 Exhibit and Display Truss offers a variety of trade show truss displays all with different structural designs of many sizes to suit your display ideas along with your budget. Exhibit and Display Truss is designed to meet the needs and requests of industry to supply "turn key" aluminum truss displays at a reasonable price. With 30 years experience we set out to fabricate cost effective and appealing aluminum trusses structured for architectural stage lighting and focused on the trade show industry. Already have a creative idea for your aluminum truss design? Not a problem, we also make full custom aluminum truss structures designed to your creativity.

Great customer service, high quality products, and ease of assembly are our priority and our promise. Feel free to contact us about any questions you might have so we can make your truss selection a smooth and easy process. We also supply signs, banners, curtains, flat screens with mounts, and many other accessories to spice up your trade show truss display. We ship to almost any location in the world and you can expect inexpensive, fast, and reliable delivery.
Placing an order for an aluminum truss Display or Exhibit is easy !
Select from one of our many exhibit or display layouts in 2,3 or 4 chord truss. You can either fax, phone or email your choice in to the order desk. Click Here for Contact Information
Please be sure to include your complete billing and shipping information and if possible a fax number. We can drop ship directly to your trade show if need be. We will process your order and calculate your shipping charges. A pro forma invoice will be faxed back to you so final approval on your order can be made. Payment instructions will be included with your invoice.
We accept the following means of payment:
1. WIRE / BANK TRANSFER
2. VISA, AMERICAN EXPRESS or MASTER CARD
3. PERSONAL or COMPANY CHEQUES (These will be held until they clear. This takes 3-4 weeks.)
If a custom truss system is required the process is much the same. Send in the basic parameters on your trussing needs or display and a sketch will be done up and faxed back to you along with an invoice and payment instructions. Your order will be finalized and shipped upon approval of the drawings.
We would be pleased to help in the design of your trade show truss, display or exhibit. Our expert staff will walk you through the many possible options and make your project a simple and pleasing experience. To help serve you better and provide you with the best possible value we would need to know some basic information about your needs.
| | |
| --- | --- |
| 1. | What size is the structure? |
| 2. | What kind of truss would you like to use 2,3 or 4 chord truss? |
| 3. | Is there going to be a lot of weight on the display? |
| 4. | Can you send us a sketch of your idea ? Nothing fancy just the basic shape and layout. |
| 5. | Is this going to be used inside or outside? |
| 6. | Do the measurements you provide need to be exact? |
| 7. | Do you have a budget in place to work with? |
| 8. | Where is it going to ship to? |
We try very hard to provide high quality, professional grade products and services and we are confedient that all our products leave our facility in good working order. We strive to ensure good communication with customers and work to create structures that meet their needs and vision. We do not offer any returns or cancellations on custom configured truss display systems or products. There will be a 25% restocking charge on any standard items returned to us in new, unused condition in the original packaging. Return freight will be the customers responsibility. Contact us for details on this policy.
The more information you can provide us with will help to get you exactly the look and price level you need. We can fabricate almost any shape or size of truss display. Please send us your truss requirements and let us do the work.
Monday - Friday
9:00am - 5:00pm EST.