Truss Display Braces and Outriggers

What are Chords and Webbing?


Information about 2, 3, or 4 Chord Truss


Corners, Junctions, and Swivels


Orientation Options


Truss System Base Plates


Truss Weight Loads and Structural Stability


Braces and Outriggers


Custom Truss Fabrication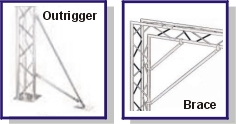 Exhibit Braces and Outriggers are used to stabilize and support structures to ensure extra support. The Exhibit and Display Braces are used to stabilize or support a corner span of truss that may need extra strength. Whereas our Display Booth Outriggers are an angled piece of truss that slopes back or in front of a vertical upright / leg providing the necessary support to hold a structure up or in place.